Facials
Service Consultations -Complimentary-  (Requires card on file for no show purposes through online booking. Office booking will require a $10 deposit) 
Not quite sure what to have done? then a  service consultation is in order;  we  will sit down together and I analyze your skin, we address your concerns, your health history and ascertain the best service for your goals. I will give you suggestions and options for your situation.  I will go over the services we offer, and product recommendations as well.
Consultations  for services are not mandatory, but highly recommended. You are Welcome to schedule the "Service Consultation and the service that you desire to follow, as two separate appointments. If at your consultation it is not the right fit for you, we will simply change the service to the appropriate one, and you can still get your service that same day as long as time allows and you are prepared for any downtime associated with the service.
Please note that these are high performance, results-oriented treatments. No disrobing (except for waxing or back treatments)
Exfoliating or Hydrating Facial  $98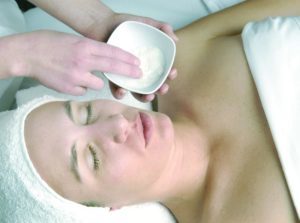 This is a deep cleansing facial, with extractions. Perfect the client with the occasional breakout. You will get a deep cleanse to get rid of the environmental grime and debris.  You will then receive either a gentle enzyme masque or Omega Oxygen peel to exfoliate the dead skin, then we will perform any necessary extractions, next you will benefit from the specialty masque best for your skin condition. Then to finish your facial and leaving you feeling refreshed we will complete your treatment with the appropriate facial moisturizer….you will beg for this clinical treatment on a regular basis!
~~~~~~~~~~~~~~~~~~~~~~~~~~~~~~~~~~~~~~~~~~~~~~~~~~~~~~~~~~~~~~~~~~~~~~~~~~~~~~~~~~~~~
Relaxing Facial- $98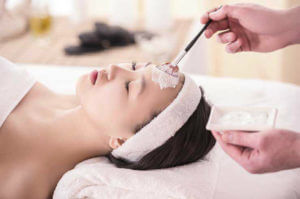 This Relaxing Facial is customized for your specific skincare needs. A blissful facial experience especially developed to deliver a gorgeous, glowing complexion. All while ensuring you are indulgently pampered. Includes professional cleanse, proper exfoliation based on your current skin analysis, delightful facial massage to take you to a place of total relaxation, followed by hydrating or purifying mask, your relaxing facial will be concluded with the skin moisturizer and spf that are designed for your skin type. The best part…. hand and foot massage!
~~~~~~~~~~~~~~~~~~~~~~~~~~~~~~~~~~~~~~~~~~~~~~~~~~~~~~~~~~~~~~~~~~~~~~~~~~~~~~~~~~~~~~~~~~~~~~~~~~~~~~~~
Ultrasonic Facial – $98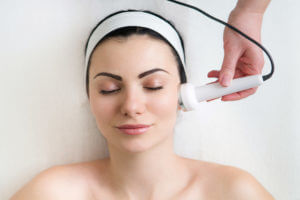 Ultrasonic is a device that emits high- frequency sonic waves, ultrasonic facial treatments cleanse and stimulate the skin. There are no chemicals and is perfect for even the most ultra-sensitive of skin types like those with rosacea, acne and sun damage.
The ultrasonic waves exfoliate dead skin cells for a radiant glow without irritation that is sometimes experienced with other modalities in those with these sensitive skin types. It loosens and removes oil, dirt and sebum from the pores resulting in less breakouts. It gently stimulates the skin to encourage collagen and elastin production, so with a series of treatments; the fine lines and wrinkles are less noticeable. This treatment significantly helps skincare products penetrate deeper into the skin, so I take advantage of this during the treatment time and use the appropriate product for your issue depending on what we are targeting; customizing it specifically for you at each and every visit.
*No extractions are performed with this service.
Your skin will have a beautiful glow following this treatment. Making it perfect to indulge in before any big event!
~~~~~~~~~~~~~~~~~~~~~~~~~~~~~~~~~~~~~~~~~~~~~~~~~~~~~~~~~~~~~~~~~~~~~~~~~~~~~~~~~~~~~~~~~~~~~~~~~~~~~~~~~~~~
LED  Facial  $98.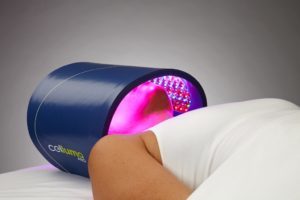 Light Emitting Diode (LED) phototherapy is the application of light energy to tissue to obtain therapeutic benefits.  The energy is used to improve cellular performance.  Phototherapy is known for its healing and anti-inflammatory properties and has a variety of applications across many medical fields. Research has shown that phototherapy can:  increase circulation, accelerate tissue repair, kill acne bacteria, decrease inflammation, improve skin tone, texture and clarity, ease muscle and joint pain, stiffness, spasm and arthritis.
In your session we can select Blue (Acne), Red (Wrinkles/Inflammation) or Far Infrared (Discomfort)
Before each session, the area will be cleansed, toned and prepped for the LED with the appropriate serum. After your LED session, you will experience a wonderful hydrating peptide mask and appropriate moisturizer along with an SPF.
*No extractions are performed with this service.
Your skin will appear smoother, tighter, and more radiant, showing continued gradual improvements in your skin's appearance with each subsequent treatment. Most people see a "glamorous glow" even after the first treatment.
You can also add this LED onto any other facial!  15 mins/$25 or 30 mins/$40
Want to know more about LED? – Can LED REALLY help me?
~~~~~~~~~~~~~~~~~~~~~~~~~~~~~~~~~~~~~~~~~~~~~~~~~~~~~~~~~~~~~~~~~~~~~~~~~~~~~~~~~~~~~~~~~~~~~~~~~~~~~~~~~~~~
 Chemical Peel  $98.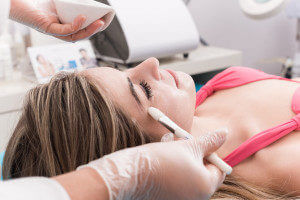 Chemical Peels are a great all-in-1 treatment. They do many things all packed into each service. Chemical Peels are great if you have multiple skin issues going on. We tailor the treatment to your specific needs at each visit. A chemical peel is a technique which involves the application of a variety of chemical solutions to remove the damaged outer layers of dead skin cells from the skin's surface. It is extremely beneficial for many skin conditions such as hyperpigmentation, rosacea, acne, sun damage, and photo aging. By removing the build-up of dead skin cells and stimulating the regenerative process, you will notice marked improvements in the formation of wrinkles and fine lines, texture and tone of the skin, hydration, reduced pore size, clearing of blemishes and more balanced oil production and an overall healthier skin appearance.
Peels are perfect for the following conditions:
Those with the most sensitive skin, sun damage, rosacea, acne, melasma, PIH (post inflammatory hyperpigmentation) or as most know it; as those spots that take forever to go away after a break out, asphyxiated skin (dry on the surface, oily underneath) , maturing skin, fine lines & wrinkles, dehydrated skin, as well as those with resilient skin that is non-reactive.
Chemical peels build on each other, so you get increased results with each one you have done within close relation to the last one. We recommend a series of 6 for best results.
Superficial Peel– These peels do not usually cause immediate exfoliation and only removes the outer layer of skin or the stratum corneum. As treatments are repeated, the skin will experience a mild sloughing. Considered a "lunchtime peel"
Mid-Depth Peel– These peels affect the intra-epidermal layer, and exfoliation occurs within two to three days after application. The skin goes through very little down time. Peeling consists of light flaking similar to a sunburn peel.
Deep Peel– These peels affect the deepest intra-epidermal layers. The skin becomes brown and crusty then undergoes considerable peeling, which occurs three to four days after application. The skin peels in large segments as opposed to flaking. The entire process takes about seven to ten days.
The cost of the Superficial Peel,  Mid-Depth and the Deep Peel are the same at Saving Face Skinspa, you will find at other clinics the peels will vary on price based on the depth and layers applied. I am a firm believer that it is more important to do what is best for the skin not what is better for the pocket of the clinic. Taking the price out of the equation you know that we will be recommending the right peel for your skin type, condition, and ultimately your goals.
It is very important that you adhere to post care instructions. I highly recommend using the Epionce "Essential Recovery Kit" which can be purchased at your appointment. It will speed up the peeling time and leave your skin baby soft, reduces that tight feeling and aids in the recovery process.
~~~~~~~~~~~~~~~~~~~~~~~~~~~~~~~~~~~~~~~~~~~~~~~~~~~~~~~~~~~~~~~~~~~~~~~~~~~~~~~~~~~~~~~~~~~~~~~~~~~~~~~~~~~~
Facial Dermaplaning- $125
Dermaplaning is a method of exfoliation that consists of using a 10 gauge scalpel to gently scrape off the top layer of dulling dead skin cells in order to reveal a smoother, brighter complexion. Sounds scary, right? It really isn't, as long as you're in the right hands.
Dermaplaning is a favorite in the entertainment industry, specifically among models and actresses. Why? because italso eliminates that annoying peach fuzz that cakes up in makeup and can be enhanced by harsh production lighting and high-definition cameras. Dermaplaning also allows for greater penetration of skincare products and creates a flawless canvas for makeup to glide on smoothly.
Dermaplaning is recommended for all skin types except those with acneic skin. If you have deep cystic acne, wait until breakouts are clear before trying this treatment. As always, also discuss any allergies or skin sensitivities before starting a treatment with your Esthetician.
This is a great treatment if you are pregnant or nursing and want exfoliation without the risk of harsh chemicals absorbing into the blood stream and potentially harming your baby.
Dermaplaning is painless and it is so rewarding to see the fuzz and skincells after they have been removed!
BENEFITS of DERMAPLANING
Put your best face forward with softer, brighter, smoother skin
Eliminate dirt and oil buildup, decongested pores
Enhanced product penetration
Increased cell turnover for healthier, more glowing skin
Temporary removal of facial hair
Further optimized results from other skincare services
Improved skin texture including reduction to the appearance of fine lines and acne scars

~~~~~~~~~~~~~~~~~~~~~~~~~~~~~~~~~~~~~~~~~~~~~~~~~~~~~~~~~~~~~~~~~~~~~~~~~~~~~~~~~~~~~~~~~~~~
AquaPeelation Facial- $120
An AquaPeelation facial is a safe, multi-faceted approach to skin revitalization, it is great for all skin conditions. It works in four different ways:
Cleanse – By using gentle vacuum suction throughout the treatment, dead skin cells are removed and the skin is cleansed.
2. Peel – A mild chemical peel is applied, loosening debris from the skin and unclogging pores. (doesn't make your skin peel).
3. Extract – Debris from clogged pores are removed without the need for manual extraction.
4. Hydrate – Depending on the type and severity of the skin condition, different serums and masks can be blended and infused into the skin.
It is painless and does not use abrasive materials that may cause discomfort.
No downtime is necessary, allowing you to return to normal activities immediately.
This facial is perfect for when you need a deep cleansing, but have an event and can't get extractions, or if you are experiencing a rough texture, then this is wonderful at restoring that soft, hydrated skin.
~~~~~~~~~~~~~~~~~~~~~~~~~~~~~~~~~~~~~~~~~~~~~~~~~~~~~~~~~~~~~~~~~~~~~~~~~~~~~~~~~~~~~~~~~~~~~~~
OxyGlow O2 Dome Treatment- $160
This wonderful treatment is super relaxing, when your service is completed… not only does your skin feel refreshed, you do too!
Great session for tired, dull skin. Perfect for acne and aging skin.
Oxygen is an essential requirement for cell regeneration. It improves the appearance of fine lines. Helps to maintain the pH balance for hydration and vitalization of skin tone.
This treatment provides enough oxygen and nutrition to the skin cells so as to delay the aging of the cells, making skin clear, healthy and radiant. It stimulates blood circulation and is moisturizing making the skin tone bright and vibrant.
This treatment is perfect for dry, lackluster skin. It is very hydrating, brightening and rejuvenating. The treatment includes face, neck and decolletage'.
Great for those affected with acne (it is acne safe), turns over cells revealing brighter skin and helping to get rid of discoloration left over from previous breakouts. Wonderful treatment for sun damaged skin as it will lighten the discoloration and help to soothe the skin.
Get an instant pick me up and brighten your skin at the same time.
Benefits:
~ Brightens skin  ~Super Hydrating ~Helps diminish fine lines ~ Relaxing ~ Reveals a glass like glow
~~~~~~~~~~~~~~~~~~~~~~~~~~~~~~~~~~~~~~~~~~~~~~~~~~~~~~~~~~~~~~~~~~~~~~~~~~~~~~~~~~~~~~~~~~~~~~~~~~~~
Focus Facial- $225
Focus Facial- does just that. It focuses on everything!
~Plumps and hydrates
~Restores skin volume
~Renews youthful glow
~Revitalizes dull complexion
~Reduces appearance of wrinkles
~Firms skin and tightens pores
~Improves skin cell production
~Reduce appearance of pigmentation
Safe for ANY skin type!